Stage performances of The Independent Eye are now on DVD. (how to order)
Two actors. Twenty puppets. Shakespeare's fiery text. Lear is the puppeteer of his own puppet show, the solo human in his motherless kingdom of power and commodity. Like Dante's damned souls, caught in a perpetual hell particular to each, Lear obsessively plays out his loss of power, friendship, shelter, sanity, and at last even hope. The Fool is his withered soul, an acid clown who torments Lear, stage-manages his story, and finally disappears into Lear's madness.
Sprung from The Independent Eye's series of landmark actor/puppet stagings—Macbeth, The Tempest, Frankenstein, Descent of Inanna—this King Lear features Conrad Bishop as Lear, Elizabeth Fuller as the Fool, with Fuller's music score. From the live stage performance, premiering in San Francisco in 2015 and touring CA, AZ, NM, OR, WA, CO, IA, WI, PA, VA, DC, MD, NH and NY.
Watch a preview (5 minutes)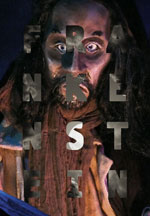 Adapted from Mary Shelley's classic novel by Conrad Bishop & Elizabeth Fuller, this Frankenstein is the story of a man who, tormented by the death of his mother, seeks to conquer death by making birth obsolete. Three actors, puppets, music and video create an ironic clown-show as unsettling as today's news. It was described by a critic as "a strangely beautiful, visually arresting spectacle of inanimate oddness … a more intimate story of a damaged soul in search of love." From the live stage performance in 2011.
Watch a preview (10 minutes)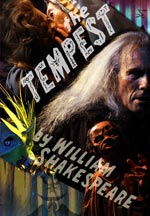 Shakespeare's final masterpiece of redemption and forgiveness, a comedy with fierceness and deep soul.  Our staging is faithful to the gorgeous text but unlike anything you've ever seen before—with five actors, 20 large puppets, masks, shadows, video projection, and Elizabeth Fuller's stunning musical score.  From the live stage performance in 2009.
Watch a preview (10 minutes)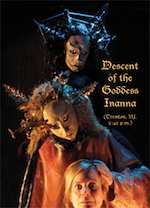 The Queen of Heaven and Earth begins a fateful descent to meet her sister, Queen of the Underworld, as a New Jersey wedding photographer finds her images turning into nightmares. Based on 5,000-year-old Sumerian myths, this dramatic revisioning features compelling music, masks & puppets, and the dazzling richness, humor and erotic imagery of the ancient texts.  From the live stage performance in 2007.
Watch a preview (7 minutes)
(Also available in an audio version.)