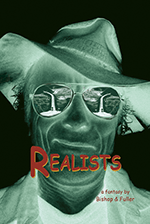 a singular comic novel of dystopian optimism
by Conrad Bishop & Elizabeth Fuller
In the near future, insane politicos reign and dreams are taboo. A motley band of innocents, targeted as terrorists, plunge to certain death, but by a stroke of lunatic physics plop onto Smoky's ramshackle westbound tour bus, pursued by an empire gone loco.
Amid ghost buffalo and disappearing cities, improbable lovers split and rejoin, children find magic, and a ragtag bunch of loners and seekers bond into a tribe of survivors, weaving a new reality with magic as the warp, love as the woof.
Co-Creation:
Fifty Years in the Making
book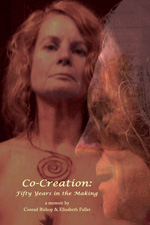 a memoir by Conrad Bishop & Elizabeth Fuller
In the course of their fifty years of marriage, Bishop & Fuller have collaborated as performers, playwrights, producers and puppeteers in bringing hundreds of stories to thousands of audiences. Now they tackle their own story— a chronicle of play-making, parenting, uprootings, successes and failures, polyamory, spiritual quests, strict accounting practices, dancing naked around bonfires, and perpetual improvisation. (Read excerpts and see photos here)
Seismic Stages:
Five Plays for Teens
book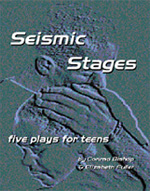 Three one-acts, including A Friend from High School, Get Happy, and Success, plus Family Snapshots and Dividing Lines, a medley of 30 micro-plays.
These pieces for the stage range from the comic pathos of a widower bedeviled by telemarketers, to the stark confession of a man who has murdered a young boy, to the farcical warfare between four sets of apartment-dwellers, and more. Seismic Stages is highly recommended for school and community theatrical collections and is enhanced with prefaces revealing how the individual pieces were engendered and suggestions for staging them.

—Bookwatch, The Midwest Book Review
Rash Acts:
35 Snapshots for the Stage
book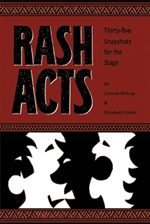 A new, expanded edition of unique comedies, nightmares, and quirky dramatic portraits drawn from 45 years of touring by two of America's landmark theatre ensembles. They have also been produced by numerous schools, colleges, and theatres throughout the US.
This work has a cabaret spontaneity and ferocity combining laughter, insight and shock that should penetrate the protective shield of any audience. Rash Acts' innovative style and use of language carve out new territory for the American short play.

—Jon Jory, Humana Festival, Actors Theatre of Louisville
Mythic Plays:
from Inanna to Frankenstein
book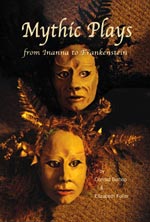 Spanning five thousand years of human experience, Mythic Plays includes four dramas evolved from collaboration with American theatres by playwrights Conrad Bishop and Elizabeth Fuller and The Independent Eye.  From Greek myth (Medea/Sacrament), Norse saga (Ragnarok: Doom of the Gods), Sumerian archetype (Descent of the Goddess Inanna) and Mary Shelley's "Modern Prometheus," Frankenstein, these plays offer highly readable models for a synthesis of poetry, visual theatre, and the immediate reality of myth.